****Even if you don't read the whole post (don't blame you, it's long) be sure to read the tips at the end. They really helped me!
Okay, this week's Show Us Your Life is right up my alley! I don't know why I thought picking out Ann Peyton's "gear" was so much fun, but I really did. I loved researching and shopping for each thing for her. I also love reading posts like this--for some reason I just really enjoy reading about people's must-haves (not just in relation to baby gear). I also love reading "baby tips" posts and "day in the life" type posts so if you have done one of these, be sure to leave me a comment! Basically, I guess I just like reading "informational" type baby posts now that I have one! So, onto the actual post.....
Also, just a note, I probably did overdo it in the amount of stuff we got her BUT we tried to be very economical in how we did it.
First of all, I got this book to help me with these crucial decisions
It actually was a big help! It shows things in different price ranges and gives good reviews. Also, it has tips about just about everything from real moms scattered throughout it. I would recommend it highly!



Travel System

-

Graco Vie4 Stroller and SnugRide Car Seat
Review:
We were kind of, um, unconventional in how we did this. We got the basic Graco travel system that a ton of people have. But instead of buying it all together we bought the car seat and base on Amazon and I found the stroller I wanted on Ebay. The thing is, we knew we'd only be using them together for just a little while (you don't even
have
to use the carrier with the stroller when they're newborn--I didn't know that until later!) So, they don't match, but it wasn't a big deal to us.
Rating
:
4 stars
Reason
:
This thing is SO easy to use, pretty lightweight, and a VERY economical option!
Pack N Play

-

Boppy Happy Place Playard
Review:
I wanted this particular Pack N Play for purely aesthetic reasons at first. I loved the colors and I'm kind of obsessed with the little birds on it. BUT I did my research first and I liked the features, too. It has a vibration unit (which we don't use that much) and plays music and nature sounds. It also has the built in bassinet for when the baby is younger. I think that is a great feature. On thing I LOVED about it was the changing table, but that is really because I chose not to get a changing table in AP's nursery. It also has some nice storage for diapers and things. I will say that the Graco Pack N Plays are much easier to actually pack up and transport (my parents have one). When I first saw this it was over $200 at Babies R Us (it's been marked down since then) and I was NOT willing to pay that. I found a new one on Ebay for less than $100!
Rating
:
3.5 stars
Reason
:
I think it's a great model, but I do wish it was easier to pack and unpack.
Infant Swing

-

Fisher Price Swing N Glider
Review:
This was given to us used, but it has to be one of my favorite things! Ann Peyton loved it when she was smaller and still naps in it some. The gliding feature is really nice for newborns and it's definitely top of the line in my opinion. We also loved that the model we have had a plug in adapter, so you didn't have to buy tons of batteries. My ONLY complaint is that it did take up a ton of space.
Rating
:
4 stars
Reason
:
It was so soothing and I loved not having to buy batteries.
Breast Pump

-

Ameda Purely Yours
Review:
I'm really not a huge fan of pumping, but if you've got to do it, this thing isn't too bad. Really, I don't think you can go wrong with Ameda or Medella. This one wasn't the most expensive, but it wasn't the cheapest either.
Rating
: 4 stars
Reason:
I've had no problems with it.
Monitor

-

AngelCare Digitial Sound and Movement Monitor
Review:
We got a movement sensory monitor because I just have bad anxiety and was scared to death of SIDS. The thing does have lots of false alarms, but to me it was worth it. I wish they could make one that didn't! I use it during the day, too, when she is napping in her crib.
Rating
:
2.5 Stars
Reason
:
I'm glad I had it, but those false alarms are AWFUL!
High Chair

-

Fisher Price/Dwell Studio 3in1 High Chair
Review:
I always like things that are versatile and can serve multiple purposes. This high chair can be set up as shown, attached to a chair, or used as a booster for an older child. And it doesn't hurt that it's SUPER cute!
Rating
:
4 stars
Reason
:
We have loved it and it is so cute. A part was recalled, but FP was super quick about shipping us a replacement.
Exersaucer

-

Evenflo Triple Fun Activity Learning Center
Review:
Again, I like that this is would grow with her. I also thought it was the cutest and had the most stuff to do. I got this model rather than the newer one; I liked it better and I got a great deal on it (on Ebay, of course).
Review
:
4 stars
Reason
:
Ann Peyton LOVES her Exersaucer and we do, too!
Infant Tub

-

Fisher Price Aqarium Bath Tub
Review:
This tub was also given to us by a friend whose baby used it. It works great and can be used in the sink or the bathtub.
Rating
:
4 stars
Reason
:
I felt like this was a great bath tub and AP loved it!



Boppy Pillow

-

Dwell Studio
Review:
I didn't really use the Boppy pillow to nurse that much, but I loved it for tummy time before she could hold her head up and just for letting her rest on the floor.
Rating:
3 stars
Reason:
Even though we didn't use it for it's intended purpose, AP loved "lounging" on it. It is something we could have done without easily, though.
Bumbo Seat
Review:
Ann Peyton really likes her bumbo, but not all babies do. My best advice is to just try it at the store before you buy it. If you do get it the tray is nice, because it makes feeding super easy and is like a portable high chair. And they do outgrow it quickly (I think a lot of babies that can still fit in it can get out of it easlily, which kind of defeats the purpose).
Bouncy Seat

-

Boppy Cradle in Comfort Bouncer
Review:
Ann Peyton loved her bouncy seat. She slept in it so much when she was tiny. I think it's a great thing for what you pay, but if I had to pick between it and a swing I'd pick a swing (it really takes up almost as much space and doesn't fold up to store the way most swings do).
Rating
: 4 stars
Reason
: We loved the bouncy seat and Ann Peyton seemed to find it very soothing. I think it's great for the first few months.
Soothers
Baby Einstein Sea Dreams Soother
Review:
The aquarium is a great soother. The music may be more entertaining than relaxing, though.
Rating:
4 stars
Reason
: This really gets AP to sleep most nights.

Fisher Price Miracles and Milestones Select-A-Show Soother
Review:
We got this because it was so portable and it works great, but is nothing compared to the aqarium.
Rating:
3 stars
Reason
: It does a "light show" on the ceiling that is pretty good and plays music, but AP seemed to prefer something closer to her.
Review:
The sleep sheep was great for when she was really small, it didn't have lights or really loud sounds.
Rating
: 4 stars
Reason
: This is a cute sound machine. You can also take out the sound making part and use it for playing and snuggling!

Playmats
Boppy Entertain Me Play Gym
Review:
Ann Peyton really likes this gym and I loved the garden theme.
Rating
: 4 stars
Reason
: This gym has a lot of entertaining features. I think others have more, but I liked this one. It is kind of overpriced for what it does though. Again, I found a great deal on it.
Lamaze Spin and Explore Garden Gym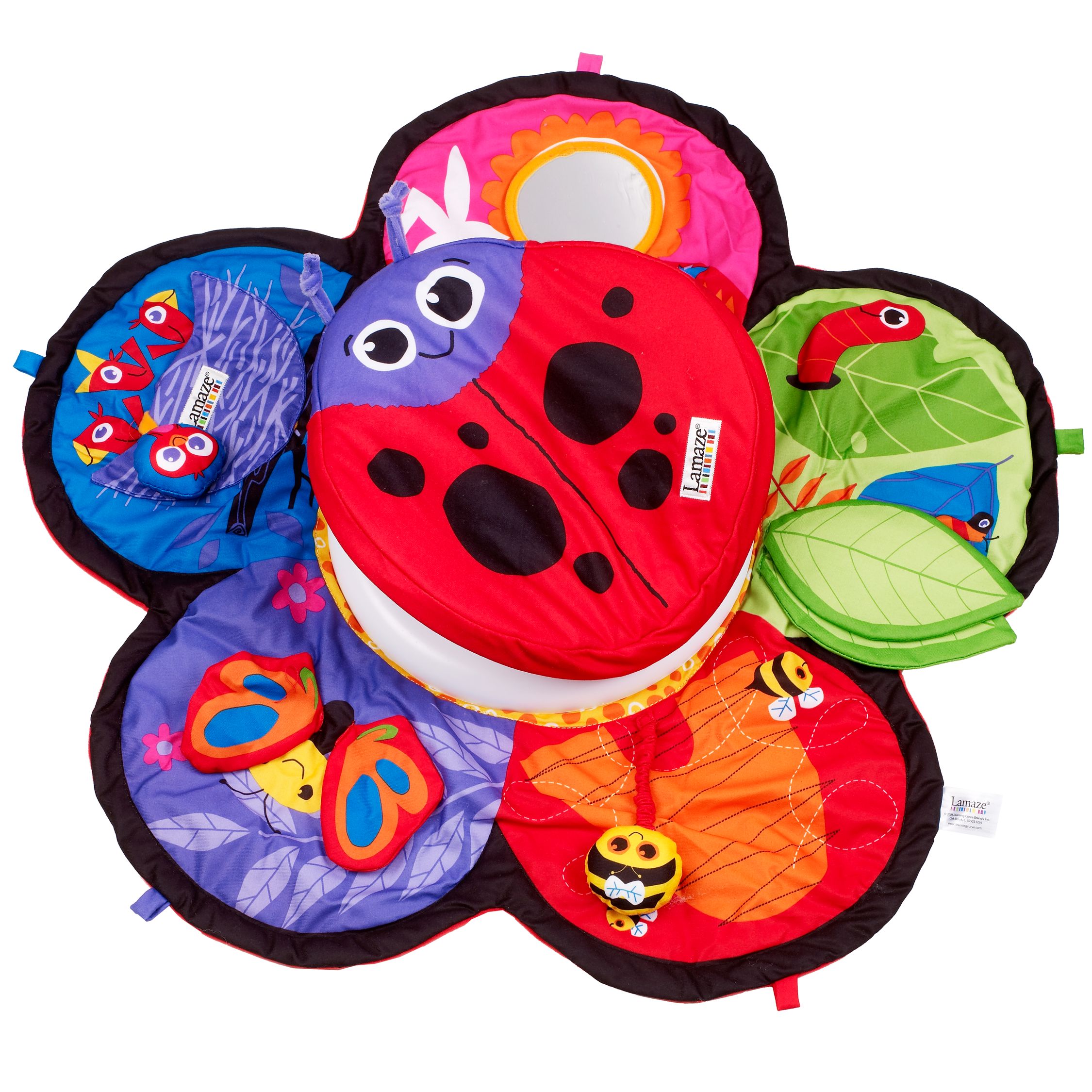 Review:
We got this to help Ann Peyton with tummy time. I've heard really mixed reviews. She would get tired on the spinner so easily.
Rating
: 2.5 stars
Reason
: It was fun, but it really doesn't last very long and the play mat is kind of boring once the baby outgrows the spinner.
Infantino Wiggle Worm Travel Gym
Review:
We really haven't used this that much, but it's pretty basic.
Rating
: 4 stars
Reason
: I think this is a great buy (around $20 if you travel alot or don't have much storage space).
Baby Carrier

-

Infantio Front2Back Carrier
Review:
We had a sling given to us, but knowing that Peyton would be using a carrier more we decided to invest in one of these, too. Ann Peyton liked it so much better than the sling and it was our best friend on a trip to Charleston that we took this summer.
Doorway Jumper

-

Evenflo Smart Steps Jump and Go
Review:
Ann Peyton has just started using this. She likes it, but not as much as her Exersaucer (this was also given to us).
Rating
:
3 stars
Reason
:
It's definitely not as entertaining as the saucer. But if you are going to get a "jumper" I like this option because it is so space saving!
Travel Swing

-

Fisher Price Take Along Swing
Review:
We got this to go on trips and it actually worked great for bringing outside or in another room than the regular swing.
Rating
:
3 stars
Reason
:
I gave it three because it is so cute. Really the motor doesn't work near as well as a full sized swing and unless you travel alot you could definitely do without it.



Diaper Bag

-2 Red Hen Rooster Diaper Bag
Review:
I wanted to get a moderate size bag because I knew I'd stuff it full no matter how big it was. I have loved this diaper bag.
Rating:
4 stars
Reason:
Sometimes I do regret not getting a HUGE bag (this one is pretty big), but for the most part I'm very satisfied with it.
****A Few More Things
****
One of the best things we've ever done with AP is used the rice sock I made for the hospital (they told us about them in our childbirth classes, but I never ended up using it) when she has gas. You just heat it in the microwave for a few seconds and put it on the baby's tummy (make sure it's not TOO hot). It works so good and now the smell and feel of it sooth her so much.
A few great resources for baby stuff:
Ebay
--I'm not above buying things used, but I've also got lots of great brand new stuff at less than half the price!
Etsy
--pretty much the cutest baby stuff EVER, espessially if you like handmade or vintage things
Upscale Baby
- I. Love. This. Site. It just has great reviews and shows you where you can get awesome deals. They've had some of the cutest Halloween costumes lately!