This week I'm featuring one of our many "diaper bag books". These are little tiny books that I keep in Ann Peyton's diaper bag and switch out every week or so. Today's selection is:
by Amy Wilson Sanger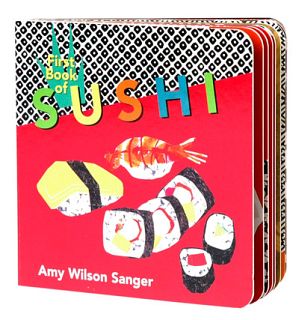 This is THE cutest book that Ann Peyton's
Aunt Elizabeth
and Uncle Daniel (and cousin Simeon) gave to her.
The book is really colorful and super cute with "mixed media collages". It has a fun little rhyming style with lots of cool Japanese words. Here's a little exert:
Miso in my sippy cup,
tofu in my bowl.
Crab and avocado
fill my California roll
I'll take yellowtail hamchi
and a red maguro slice.
Big, BIG futomaki has so many grains of rice!
Obviously, the book is not full of easy words, so it wouldn't be a great choice for, say teaching a child to read. But it's the perfect read aloud book and it's a great addition to our diaper bag collection, as the unique pictures hold her attention for a good length of time.
Note: This book is part of a collection called
World Snacks
. There are several other books, but the two I'd like to check out next are
Hola! Jalapeno
and
A Little Bit of Soul Food
.