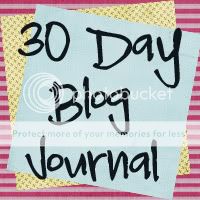 Okay, so basically, I have decided that pretty much all of these are going to just turn into lists. I've told y'all before, I am not decisive and asking me to chose a favorite is just too much!
Day #3- My Favorite Television Program
I shared eight of my favorite shows about a month ago, and they haven't really changed, so I'm taking the easy road and re-posting that list with one addition
1)
Army Wives
. Sometimes, it can be a bit corny, though.
2)
The Good Wife
. This is a new one and it's one of my favorite dramas ever. I really prefer drama to comedy, in most cases. Also, anything with Mr. Big in it is not hard to watch. Unless it's Criminal Intent. Then it's incredibly painful.
3)
Anderson Cooper 360
. I'll admit, Ima a dork, you don't have to tell me. What I won't admit to is watching Neil Cavuto during nap time.
4)
America: The Story of Us
. We DVR'd it off the History Channel and it is SO good. It's all about how Americans have been so innovative and the true entrepreneurial spirit that has guided this country.
5)
Parenthood
. Another new one! It can get a little cliche, but I love it. And I think they do a really good job of dealing with the issue of having a child on the Autistic Spectrum.
6)
Law and Order
. The original. I used to only like SVU, but now I really like the original L&O a lot, too. I think that Sam Waterston does a fabulous job of playing ADA/DA Jack McCoy. Peyton and I love to talk about the complexities of his character. I recently ordered
another Sam Waterston series
, but I haven't checked it out yet. Because, you know, the time. The time. What becomes of it?
7)
Toddlers and Tiaras
. Possibly, more embarrassing than Cuvuto.
8)
90210
. The new one. I'm kind of obsessed. It's a VERY guilty pleasure, though. Let's see, cocaine, sex, psycho stalkers, suicide, homosexuality-all the makings of a good teen drama. Why do half these have either a teenager or a geriatric vibe??
9) The Sam Waterson series mentioned in #6? Well, a month later and I just started the first episode yesterday (honestly, I waste most of my time on the computer, if you can't tell!) The series is called
I'll Fly Away
and it's a period drama set in the late 1950s about a white attorney, his family and their black housekeeper. It has a very
To Kill a Mockingbird
feel to it. I highly recommend it, but I think the only way to get it is bootleg dvds.