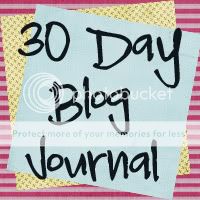 Day #29- Hopes, Dreams and Plans For the Next 365 Days
Um, let's see. Here's a few:
- Watch Ann Peyton walk unassisted. One day. The Lord is building my patience with this child.
- Grow in my relationship with Christ.
- Love Peyton more passionately.
- Welcome Babykins #2 and embrace life as a family of four.
- Become a better time manager and grow in my ability to prioritize.
- Treasure each day.
- Continue my (very) part time job until April or the end of March.
- See Peyton get the promotion he's been working hard for.
- Refloor the kitchen.
- Finish Ann Peyton's baby book before the new baby arrives.
Finally, three things I pray (from the hymn
Day by Day
):
- To see Thee more clearly
- To love Thee more dearly
- To follow Thee more nearly
day by day