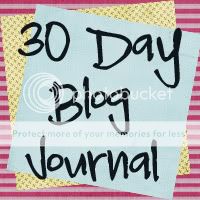 Day #25- My Day in Great Detail
Today was a really fun, but (of course) tiring day.
I set my alarm and got up at around 8:00 so I could make it to the Kid's Emporium Consignment Sale at 9:30. I'm glad I gave myself the full hour, because I needed about fifteen minutes of it for throwing up. Ha! This morning was the first time I've actually gotten sick sick. Anyway....
I got ready and ate a few pretzels and made it to the sale in time to get in the back of a long line that had formed. When they let us in, I found a ton of good stuff. At least two people told me that I had gotten "everything", but I saw plenty of people with just as much stuff as me! I follow the same scheme that
Carrie
,
Ashley
and I did (I think Ash suggested it) the first time we went to this sale (this time last fall)- I snatch everything that is remotely appealing and then put stuff back. Carrie and
Rebekkah
were both there, so we had fun looking through each other's piles and helping the others decide. I'm confident I spent the most money of all of us, even though Carrie was buying for two. UGH. Maybe the new baby will be a girl and will reap the benefits of AP's extensive wardrobe. After the sale, Carrie and I went out for "brunch". However,
Broadstreet
had stopped serving breakfast by 10:45, so we had an early lunch. I got the Salad Sampler Plate. We had a great time visiting without any, ahem, little distractions and my lunch was really good.
When I got home, Peyton and AP were outside. Peyton was working on something and AP was in her kiddie pool under the carport with him. She looked like a little prune! Peyton said she had been in there for over an hour. We all came in and I got AP some milk and put her down for a nap. While she took her nap, I washed dishes and put a bunch of stuff back in our kitchen cabinets under the sink (the disposal broke yesterday). I worked on a blog post and then laid on the couch for a little bit. She slept for about two hours and then woke up and played for another twenty minutes. After she woke up, I fed her lunch and the Terminex man came to check our house. When he left and AP finished lunch, we went to Target. I did really good and only bought what I came for- baby coat hangers, make up, and milk. When we got home, AP had another cup of milk and we snuggled on the couch for a bit. Then she played in her room while I organized some new clothes and took pictures for the next
Babykin Boutique
post. I fed her supper and got her ready for bed. I also had some pasta salad for an early supper We cleaned up her room and I put the sheets that I had washed earlier back on the twin bed in her room. It's kind of a pain because the (really cute) sheets we use are two flat sheets; they didn't come with a fitted sheet. I brushed her teeth (she's obsessed with it), read to her, prayed for her, sang to her, and put her to bed. I got on the computer and watched TV for awhile. When Peyton got home from work, we talked and I ate some peanut butter and cookies. I think I'm fixing to go to bed because I have an early doctor's appointment!