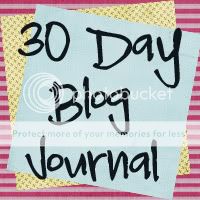 Day #7- A Photo That Makes Me Happy


I have SO many photos that make me happy. I was not a huge picture taker before Ann Peyton was born, I wanted to be, but I either forgot it or forgot to use it if I had it. It's a different story now, though. We don't have a picture from every single day of her life, but we have a couple from most days. I was looking through some recent pictures (I decided to limit myself to something in the last month) and I found some from last Sunday that didn't make my
Weekly Happenings post
(unless I want to do a whole
"picture post"
on something, I usually just include the best pics from the week in my
WH
posts). Anyway, here's one that makes me SO happy:
The reason I took this is because Ann Peyton had rubbed her peaches in her hair during supper and Peyton had wiped her hair with a bath cloth (she had a bath the next morning, ha!) and made this gross little pointy thing in the front. I thought she looked like a unicorn, so I had to snap a picture. However, as I look at it just a week later, I see some much more. I realize I will cherish this picture so much because it captures the two people I love the most in this world sharing in an activity not of this world.