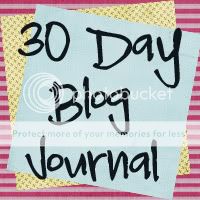 Day #21- A Recipe
I started to post this a few weeks ago, but I decided to save it for today. This one is great!
This recipe really is SO easy and it tastes SO good. Y'all know that I'm pretty lazy in the kitchen and I get really intimidated if a recipe calls for more than six ingredients. So when I say easy, I mean EASY!
Ingredients:
- 6 medium peaches, peeled and sliced
- 5 slices of white bread, crusts removed
- 1 cup of sugar
- 2 tablespoons all purpose flour
- 1 egg
- 1/2 cup butter, melted
A helper is a nice addition to any recipe, right?
Directions:
1. Place peaches in an 8-inch square baking dish coated with vegtable cooking spray.
2. Cut each slice of bread into 5 long strips, and place evenly over fruit.
3. In a bowl, combine sugar, flour, egg, and melted butter.
4. Pour over fruit and bread.
5. Bake at 350 degrees for 35 minutes or until golden brown.
****Butter and sugar caramelize over bread strips. You won't know it's bread! Seriously, it tastes like it was made from scratch!***
Another thing I love about this recipe is that it doesn't produce a ton of dishes. No getting out a mixer and such. See, lazy cook, huh?