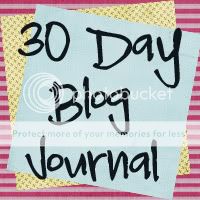 Day 19- A Talent of Mine
I'm really weird about this type of post and to me it would just feel arrogant to name of a talent. I don't really think it is arrogant to know and be proud of your talents; I would just feel self conscious saying something like that. Also, not to be self deprecating, but I just really don't feel like I have an true talents. So, I thought of a fun idea for this post. Well, at least I think it's a fun idea ;)
I asked Peyton what HE thought my talents were!
This is what he said:
1.
Writing
. Peyton is very, very kind to me about how I spend so much (too much) time chronicling our lives and hashing out my thoughts in this place. I have always enjoyed writing and I would love to write professionally one day. Few people can do that though. Peyton acts like I could be one of them. Occasionally I believe him.
2.
Teaching
. I enjoy explaining things to be and helping them understand. I'd love to tutor some kids now that school is starting back.
3.
Finding Quality Things on a Budget
. I think he's mostly referring to baby clothes/gear, but I've found some great stuff for our house, too. I also found THE best jeans and cowboy boots on eBay for myself. Steal.