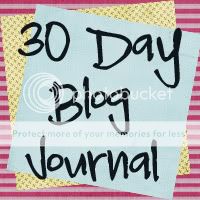 Day #28- What's in My Handbag/Purse
I rarely ever carry a purse anymore; it's been that way since oh, almost seventeen months ago. Personally, it would stress me out to try to carry/keep up with a purse and a diaper bag and the alternative would be to put Pampers and baby wipes in my purse. So, I just use a diaper bag and it functions as a purse, as well.
Here's my diaper bag!
I like to try to stay organized, so I try to clean it out/organize it once a week. I usually do this on Saturday night, since we drop it off with Ann Peyton in the nursery on Sunday morning. A couple of weeks ago, I was tired and forgot and she had no Cheerios or paci! They have some snacks and she was fine without her paci, but I feel bad doing that to the nursery workers!
Here are the contents:
Annie's stuff:
- diapers (I like having a little bag that keeps them all contained and it has a changing pad with it. It's also convenient if I do want to put the essentials in my purse or just snap the bag itself to the stroller for a quick errand).
- wipes
- ButtPaste
- Little RafRaf (her travel lovey)
- anti-bacterial spray
- Tide to Go pen (life changing)
- baby lotion
- finger puppet
- CPR/Choking Rescue pamplet
- paci pod with two travel pacis inside ("Travel pacis" are always pink. I'm OCD about it; I just think they are cuter. The ugly ones are "crib pacis". Ha!)
- rattle (she's over it most of the time; I should switch that out)
-
First Book of Sushi
(We always have a book with us because AP is fascinated with them and they hold her interest longer than anything else. I switch out this one, a touch and feel book about baby animals, and a few others, because they are small and have interactive elements (mixed media, touch and feel, ect.))
- camera (This is a close second as far as holding her attention. It is kind of noisy, but I'm sure other grocery shoppers prefer "Say Cheese!" to a screaming babykins!)
- bib
- Cheerio container with either Cheerios or Goldfish crackers
- she usually has a sippy cup, as well
My stuff:
- snap in cosmetic bag that matches the bigger bag (I use this for things I don't want to accidentally pull out when I'm searching for something- won't need those for a good long while, though. YAY! I also use it for important notes I make for myself or receipts and things that I don't want to fall out or get lost.)
- at least two notepads
- peppermint
- keys
- "on the go" make-up (I ussually do my mascara and lipstick in the car, but
only
at red lights!)
- glasses (I wear them to drive)
- wallet
- cellphone
- I almost always (probably 95% of the time) have my little point and shoot camera with me
If we're going to be gone for the whole day (like a day trip to see Peyton's grandparents); I like to add in her medicine kit: