As the air grows chill and crisp and the skyline is filled with burnt orange leaves and the days grow increasingly shorter, my heart is again pricked with the God given directive to give thanks. To give thanks for the big things, but perhaps more importantly for the small ones. In previous Novembers, I have taken to
making
thankful
lists
, but this year, I decided to do it differently and lest I forget to spend focused time finding things to be thankful for I made up my mind to tweet my Thankfuls daily for the month. Because unless I'm intentional about carving out time daily, these little blessings are oft
over
looked and subsequently
under
appreciated. Then I decided that at least for the rest of November, I'd record them here, also and link up with
Ann Voskamp's
Multitudes on Mondays.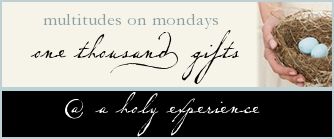 I've said before that I just couldn't commit myself or this space to another weekly engagement. But these posts won't take me long to write nor will they take you long to read. Hopefully though, in recording these little minutia moments of love and joy we both will be made more aware of the prescence of Christ in our lives. And as the days leading up to the Christmas season become more and more full, that is exactly what this momma's weary soul needs.
[I'm starting at eleven, since I began my
gift enumeration
awhile back.]
11. night one of Baby Graves sleeping through the night
12. waking up to raindrops
13. a precious boss who provides Godly counsel on marriage and intimacy in between diaper changes
14. a much needed nap
15. a child who chooses turkey as an acceptable dessert
16. a momma who helps with errands since we don't have a double stroller
17. a friend who found this out and offered to loan us one
18. the joy of seeing Momma feed Graves a French fry
19. the relaxed attitude that comes with parenting number two
20. a family of four who, by some happy coincidence, all slept until mid morning
21. a much needed day of nothing
22. a new church dress that managed to be both spunky and effortless
23. Minnie the Maxxionista, who got it for me, realizing this tired momma needed a pick me up
Join me if you will!