Here we are again. Counting the daily blessings and enjoying them all the more for it.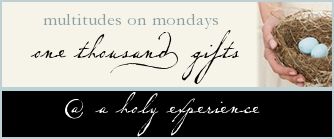 24. a full day at home with my peanuts
25. fresh sheets on every bed (or crib)
26. a new found confidence in the kitchen
27. the privilege to
vote my convictions
28. the gift of civil disagreement
29. the opportunity for change
30. the hope for the unborn
31. tiny toddler voice from the Buick backseat "Momma, buckle me...."
32. the Lord's protection of her in spite of her mother's absentmindedness
33. toddler toothbrush on the silver chest
34. frog potty in the kitchen
35. iced trays of frozen pureed fruit in the freezer
36. the peace that comes as I learn to accept my house as is during this season of life
37. those men and women who have bravely shed blood, sweat and tears for our freedom
38. the nation they have helped sustain
39. the privilege of knowing and loving several of them
40. the glorious relief that is the end of a day long headache
41. time spent with the beautiful family that I married into
42. the opportunity to teach and guide little children
43. the opportunity to be part of a truly dynamic Sunday school class
Praise God from whom all blessings flow!