As November draws to a close, my last list (for now) of "thankfuls":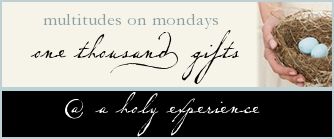 54. the joy of seeing my children
truly
playing together for an extended period of time
55. a lovely lunch with a friend who totally understands my daily battles and triumphs
56. pureed pumpkin left over from Peyton's from scratch pie that functions perfectly as baby food
57. the incredible toddler entertainment value found in homemade granola
58. going through the next size and putting Graves in new-to-us precious clothes passed down from his sweet cousin
59. anticipating the adorable baby cousin who will get to enjoy the benefits of his or her aunt's over indulgence in kid clothes
60. the blessing of having our parents live within ten minutes of each other
61. the blessing of two dinners I did not have to cook and two houses I did not have to clean
62. the following conversation....Cookie (to my dad holding Baby Graves): "do you wish you had had a little boy?" Daddy: "Well, I've got one right here!
63. three days with a sister who is also a best friend
64. watching beautiful, clean water poured over my son
65. formally welcoming him into our community of faith
66. covenanting together with our church family to pray for him that he "may become a true disciple who walks in the way that leads to life."
"Now thank we all our God
With heart and hands and voices
Who wondrous things hath done,
In whom his world rejoices"