Another background and header I love. Summer is my favorite! Look at my children in Summer clothes. So happy!
----------------------------------------------------------------------------------------------------------
May was great-- amazing, really. We're making connections- real connections- here and that's been a wonderful feeling. And we also enjoyed two different friend visits from some of our favorites from home. Of course that was wonderful.
June seems like officially Summer and I'm just devouring the very idea of it. Summer here is different than Summer in the South, obviously. In addition to fresh watermelon and ice cream trucks like at home, Summer here means windows open in the evenings and festivals and carnivals and street parties most every weekend.
Summer here also seems to mean a different mood in the streets. I've heard this can be negative- lots of loud house parties raging into the wee hours of the morning, especially in less affluent neighborhoods; more gun violence provoked by the boredom that ensues when school isn't in session; and just more people out and about stirring up trouble simply because it's warm enough to do so. But for the most part, so far, I love it. A new fascination of mine is culture- urban culture, specific racial and ethnic cultures, church culture here- all different kinds of culture. And I think in the Summer, we are better able to observe that. A few years ago, I would have been a little surprised if you told me that I'd be living in a very urban, very diverse neighborhood and I would have laughed in your face if you told me that a part of me would smile when Summer came and the rap music (which I mostly have a strong disdain for) gets turned up and the cars bump bump a little more. As I bee bop down the street with my tiny people, it gives me a little thrill because it seems so indicative of our new place and I love that there's a soundtrack to our lives even if it's a different soundtrack than the one I would have chosen. We don't have a lot of big plans for June, but here is what is on the agenda:
- Calvary-Saint George's is having "creative arts camp", which is basically what VBS was at home. EVERYONE who has talked to me about it has been so excited and proud of what it has become and I can't wait for the kiddos to experience it.
- As I said, there are lots of different festivals and outdoor things. I can think of two that happen literally every Saturday in the Summer. Can't wait to take advantage of those.
- I'm going to try to do a writers' workshop thing once this month and see how that goes.
- I'm hoping we can get together with a few friends up here at least once or twice this month.

- It's our six year anniversary (which inspired the Bonhoeffer quote in the header) and I'm sure we'll celebrate with some lovely take-out =)
And that's it. Should be fun!
I didn't do terribly well on my goals past month. Partly, I think it was an unusual month because we had house guests twice. It was such a fun month, but not a normal one. I want to always choose intentional community over "accomplishing things" and I feel like that happened. So no (or not much) guilt! Here they are:
1. Take pictures with my "real" camera at least once a week. I did okay here and there, but I still need to work on this.


2.
Sing a psalm regularly (I hesitate to say daily, but we'll try) with Peyton.
We didn't do great at all. See my number one for this month below.
3.
Prepare and plan for friend visits.
Done and done. Both visits have been amazing in totally different ways.
Ashley and Carrie's visit was great because I got to escape my reality for a bit. Which, honestly, was sort of needed. Without any childcare options besides Peyton and without any close girlfriends yet, it was good for me to have that time. Really good. It was also so INCREDIBLE to get to experience some of the things (plays, museums, nicer restaurants) in the city that I never get to take advantage of and enjoy.
With Ellis and Minda, though, we got to share our reality with them the whole weekend. We've mostly stuff we'd do anyway, but we got to experience it with some of our dearest friends. It's been really powerful, actually. And I've been reminded of how much Ellis (and truly now Minda, too) "get" me. We had so many great conversations. Another extra perk is that they are the kind of (for now) childless couple that when they are around a family they go MILES out of their way to make life easier on the momma and papa. And that's just so nice. They've been so helpful with the kids and I honestly got a break again that I didn't really see coming. Lastly, they are so laid back and (also because of our long history) are so easy to host. I tend to be the type to get nervous about that sort of thing when I really have NO reason to and it's something I'm trying really hard to work on (more on that later, too).
4.
Cook three times a week, minimum.
I'm doing okay, but I need to do better. The obvious answer is to actually make a meal plan.
5.
Settle on and order a toddler carrier for Graves.
We got the toddler Tula carrier and the thing has already been worth it's weight in gold. It was SO much easier to do buses and trains last Sunday by myself and Peyton has actually worn it a good bit with Annie in it. We've gotten to where we take it and a single stroller a lot. We don't use the double near as much, which again is really nice for the subway and buses because it's sort of bulky and heavy.
6.
Change over mine and the kids' closets for Summer.
I did all the kids' and left out a few things for chilly days (we still have a few). I've just this week pulled out my shorts- I've still been doing a lot of jeans and flats with lightweight long sleeve tops. Anyway, I'm putting that on this month's list.
Onto my fresh goals for June. I'm being pretty ambitious with more than usual, but they are all pretty simple, organic things that I think I can naturally incorporate into our days:
1.
Have some sort of prayer/Bible study time with Peyton
. This keeps coming up and I keep failing. I think part of it is the nature of his schedule. The days he works he works for thirteen hours- and is gone for about fifteen. It's hard to do much besides visit a bit and watch the news those nights. And on the days he's off we try to pack in a lot. Those aren't good excuses, though, and we need to figure out something that will work, even if it's something simple. My friends and I were talking and we discussed this a little. It's something I really feel like we'd benefit from.
2.
Start reading a book together with Peyton
. I have on my
big goals list
to read five books together this year. We going to start
On Being a Theologian of the Cross: Reflections on Heidelburg Disputation, 1518
. I'm pretty excited about that.
3.
Eat fresh produce daily
. Because I can. It's actually (I know this is a huge shocker) so cheap and I need to make changes in my diet in small ways.
4.
Pick back up memory work with Ann Peyton
. I've actually started this a little. After we took our long break from homeschooling for the move, I slowly eased back into school. We were back to doing everything but memory work for some reason. We're picking back up with the catechism and Scripture.
5.
Start to potty train Graves
. Actually, we started this like a year ago. But it was the kind of thing where he could stay dry, but only if I remembered to take him to the potty every couple of hours. No big deal, really, but not what I'd call truly potty trained. Anyway, I gave up and said I'd try again this Summer. So here we are. I have a lot of excuses for that one, too, and honestly it IS way harder here. You can't just pull over in a field or at a service station when you're on the subway. But, it needs to be done at some point and we're going to give it an earnest shot and see if now is that point!
6.
Have people over
. I was NOT good at this at home. For some reason, in a weird way, I'm more comfortable entertaining here in our tiny apartment where we have to eat on the kids toddler table from Ikea than I was at home. Maybe part of it is the lack of pretense- I just feel like the bar is lower than in the South. Nobody knows what a great entertainer/hostess my momma is, for example. And also, I think I'm just getting comfortable in my skin. It's also nice that I can clean- REALLY clean- the whole place in like an hour and a half.
7.
Make music a part of our home more
. I used to play music ALL THE TIME in the car and now that we don't have that opportunity, I want to have it on more during the day. I got an amazing by the group Rain for Roots and it's the most beautiful songs that are basically the Gospel. I've been singing them to the kids at night and turning other stuff on in the mornings when we clean up their room. And I've been playing music for me when I do dishes and fix supper and such.
7.
Do my closet change-over
. Again, shouldn't take too long as I don't have near as much stuff here. I just need to pick a day and do it!
Here's to June, a month of sunshine and watermelon and loud streets and fresh hope. May it be a month in which we love our community more, push open the windows and fling open the doors often, and rejoice always in each good new day He has made!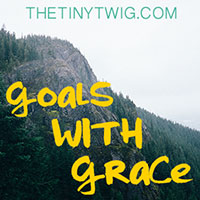 (Linking up with Hayley at The Tiny Twig!)